Iraqi Qasim Al-Khadra, Ramin University cooperate in agricultural fields
An Iraqi delegation of Qasim Al-Khadra University, currently here to sign a cooperation agreement in scientific, research and cultural fields, met with the authorities of Ramin Agricultural and Natural Resources University in Bawi County, North of Ahvaz.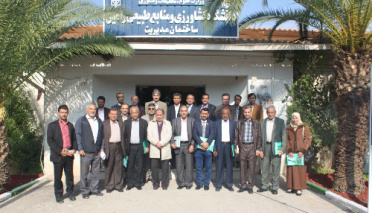 Director of the international scientific cooperation group of Ramin University said that during the meeting, the grounds for signing an agreement on exchange of students and educators, exchange of scientific information, cultural and sports activities between the two Iraqi and Iranian Universities were discussed.
Saeid Mohammadzadeh said that the Iraqi university delegation had a positive assessment of Ramin University.
The delegation toured the central laboratory, its equipment and workshops as well as greenhouses and agricultural machinery workshop.
Qasim Al-Khadra University, located in the Iraqi province of Babil, is newly established. Formerly, it was part of Babil University. It is now comprised of six faculties and has 3,000 students and is active in fields of agriculture, water, earth and animal sciences.